Scott's journey through Namibia began in the capital city Windhoek, and took him south to the Kalahari then back up to the Sossusvlei Dunes and onwards to Swakopmund. From there he went north along the Skeleton Coast on a long drive to Damaraland, stopping at Twyfelfontein on the way. The final leg of the journey took him to Etosha National Park, and then back down to Windhoek. Here are some pictures he took along the way.
Sossusvlei Dunes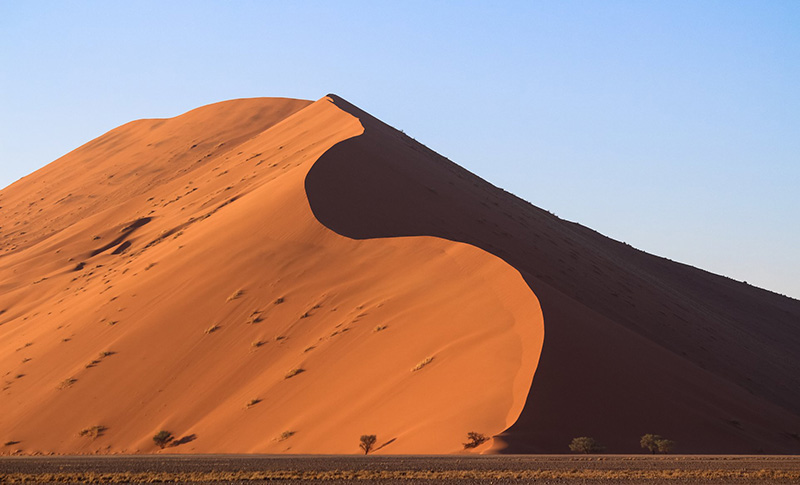 The Sossusvlei dunes are an iconic spot in Namibia. Located in the Namib-Naukluft National Park, south west of Windhoek, they are best seen in the early morning light, when the angle of the sun casts striking shadows on the dunes.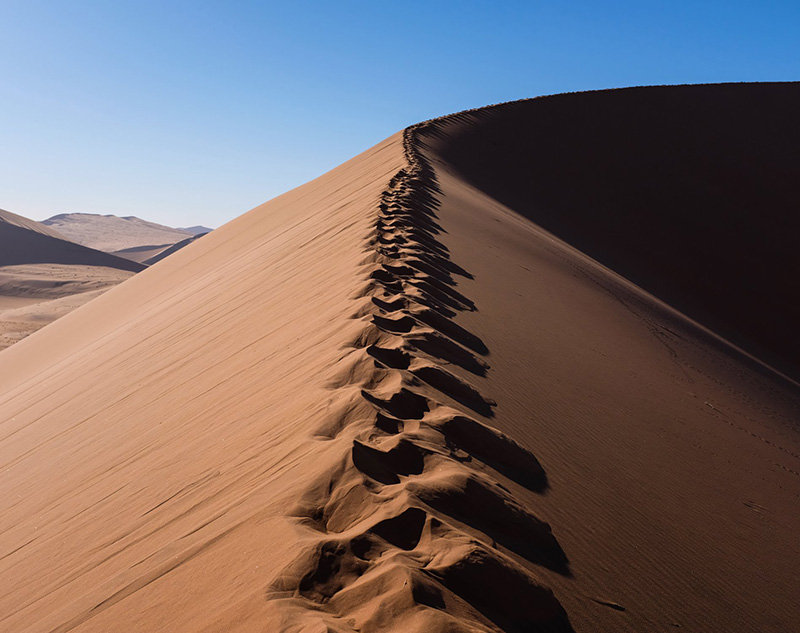 If you are feeling active there are a couple of sand dunes which can be climbed in the region including Dune 45, and the appropriately named 'Big Daddy'. Climbing sand dunes is a demanding task (a potentially time consuming one, depending on your fitness level, akin to stair climbing) but the rewarding views across the desert are worth it.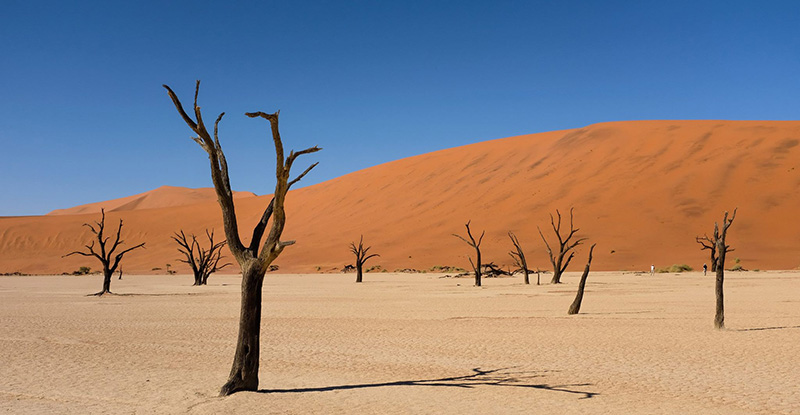 Also within the national park, Deadvlei is a dried marsh. It is only the dead trees at its centre which give any indication that this area was once life-giving. These trees create a beautiful, surreal setting which was one of my trip highlights.
Swakopmund and the Skeleton Coast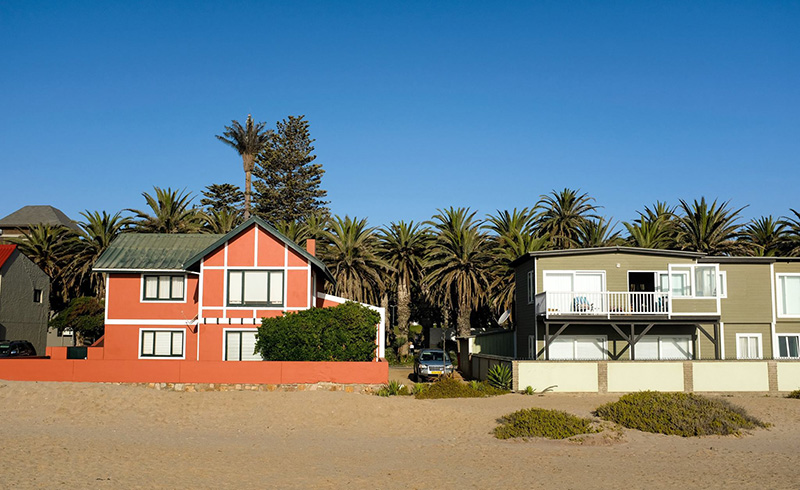 Namibia is a former German colony, and they have the architecture to prove it. Swakopmund, a city on the coast to the west of Windhoek, was built as a German port and German architecture can be seen throughout the city.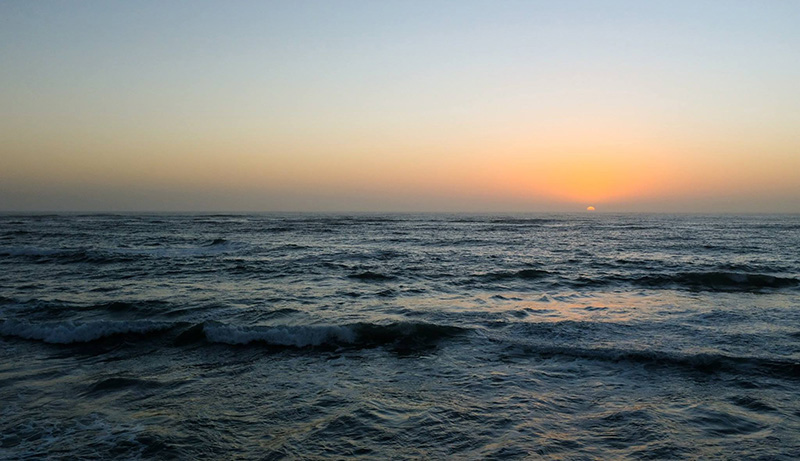 As with anywhere on the coast, there are some lovely sunsets to be had. This picture is of the sunset over the Atlantic ocean from Swakopmund pier.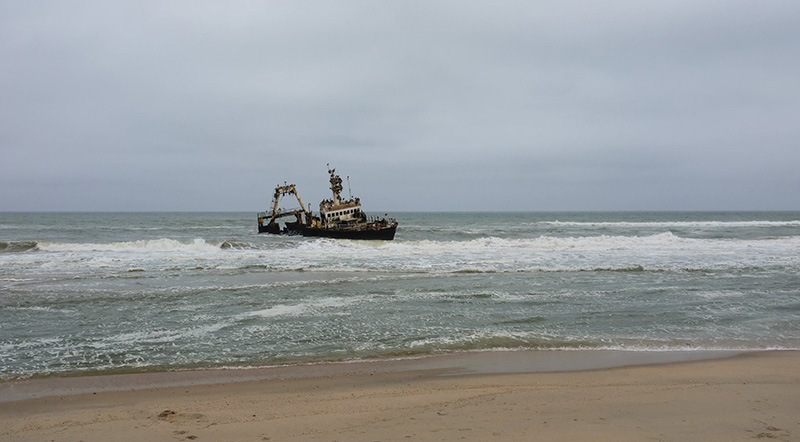 The Skeleton Coast of Namibia refers to the northern half of the Atlantic coast, although people often refer to Namibia's whole coastline as the Skeleton Coast. Befitting the name, I spotted this Shipwreck on the Skeleton Coast, on the drive from Swakopmund to Damaraland.
Twyfelfontein & Damaraland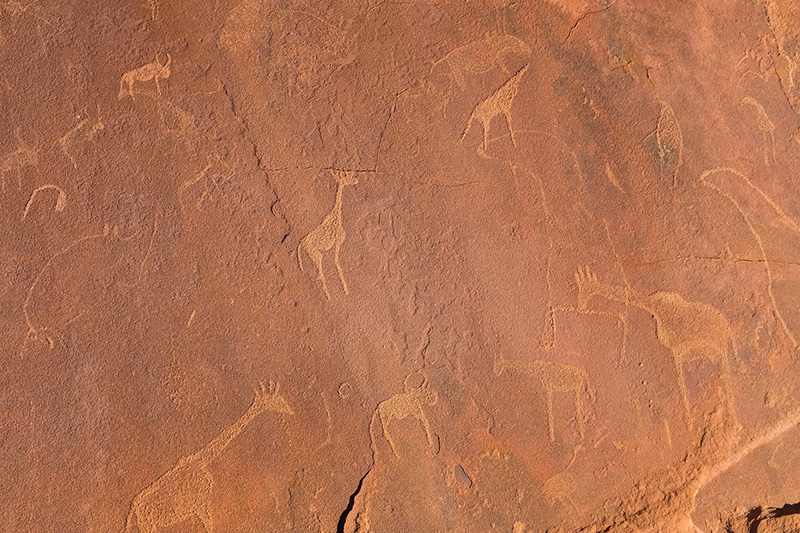 On the drive from Swakopmund to Palmwag, we stopped at Twyfelfontein, a UNESCO World Heritage site famous for its ancient rock art. The site has been inhabited for over 6000 years, with groups from the hunter-gatherers to Khoi khoi herders using is at as a sacred ritual site, thanks to the spring in the area. Most of the engravings were made between 2000 and 2500 years ago. There are also rock paintings, made at a later date. Twyfelfontein boasts one of the largest concentrations of petroglyphs in Africa.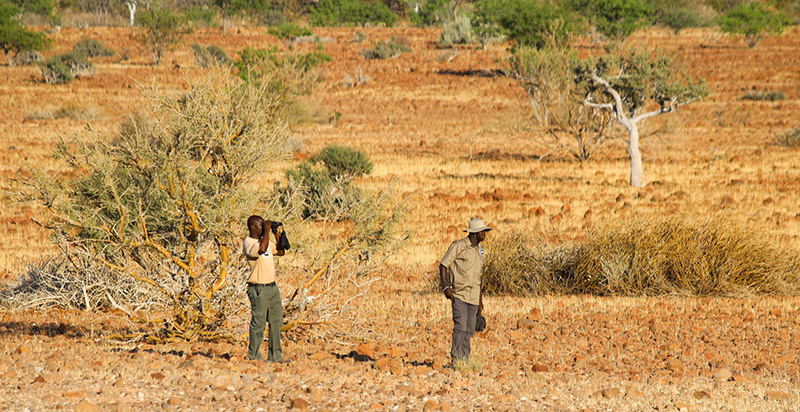 In Damaraland, a wild, rocky region in the north western Namibia, you'll find Palmwag, a remote wildlife lodge. The region is unfenced, and therefore vast. It's home to black rhino and elephant that have adapted to the dry, rocky conditions. An incredible activity on offer is rhino tracking, where you head out into the wilderness on foot to spot this endangered species. Above is a picture of our trackers on the excursion, looking for clues as to where we might find a rhino.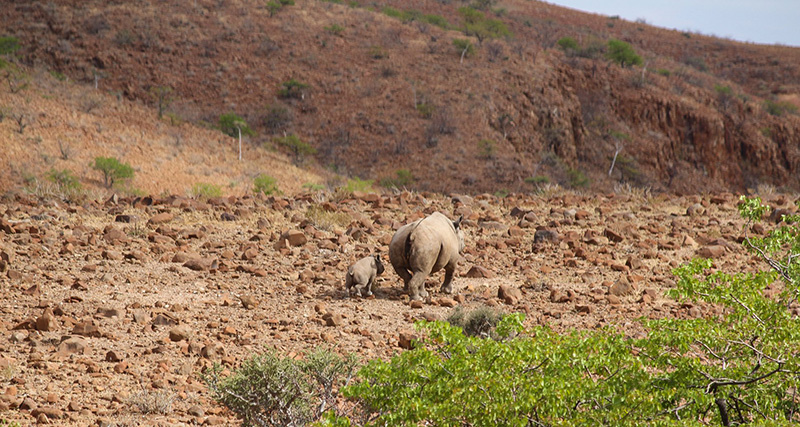 The elusive desert rhino. On the tracking excursion rhino sightings are not guaranteed. As I mentioned, they inhabit a huge area and with no fences limiting their movement they cover a huge amount of ground. There are also limited numbers of rhino. I was lucky enough to spot a rhino cow and her calf though, and got the picture to prove it.
Etosha National Park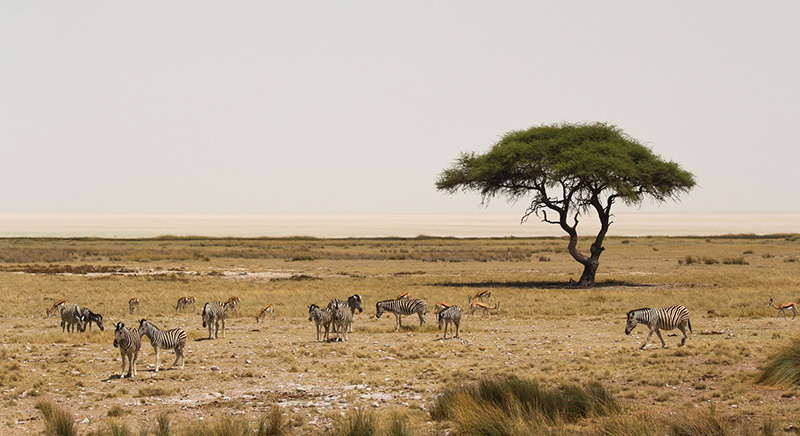 Etosha National Park in north western Namibia is a favourite game-viewing destination, thanks to the excellent wildlife spotting. The lack of water sources and vegetation makes wildlife extremely easy to spot. The distinct lack of bush and trees means there's nowhere to hide, and if you wait at a waterhole before long something will turn up for a drink. Another draw card is that Etosha is malaria-free.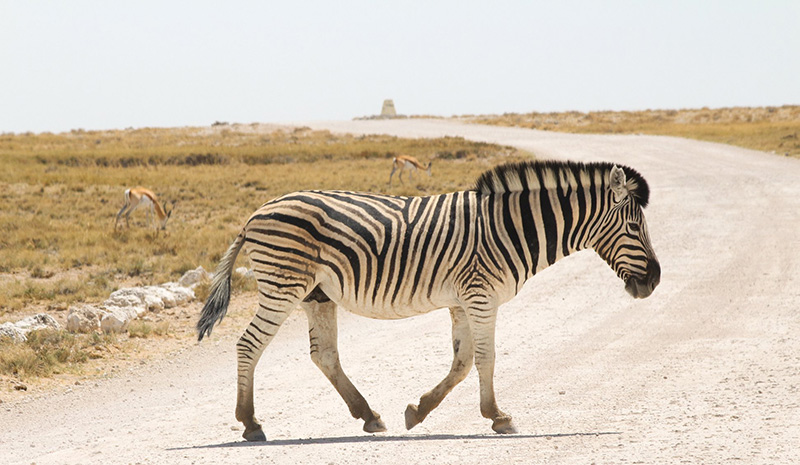 A zebra crossing, Etosha style.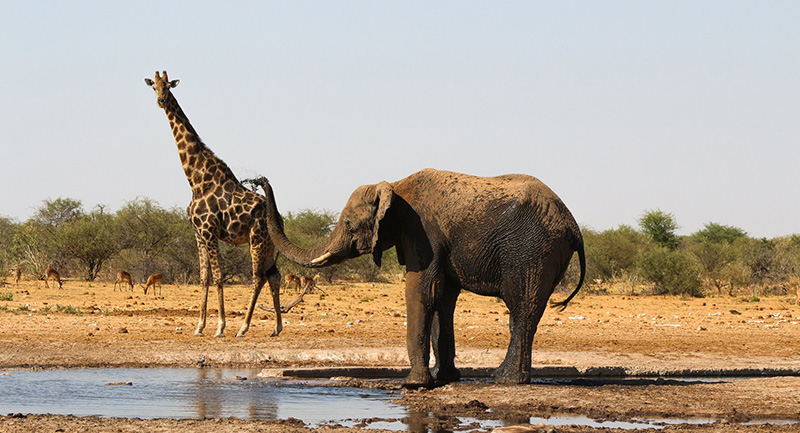 The waterholes in Etosha not only guarantee wildlife sightings, but also provide ample photo-opportunities as animals tend to slosh around and cool themselves down, as well as drink.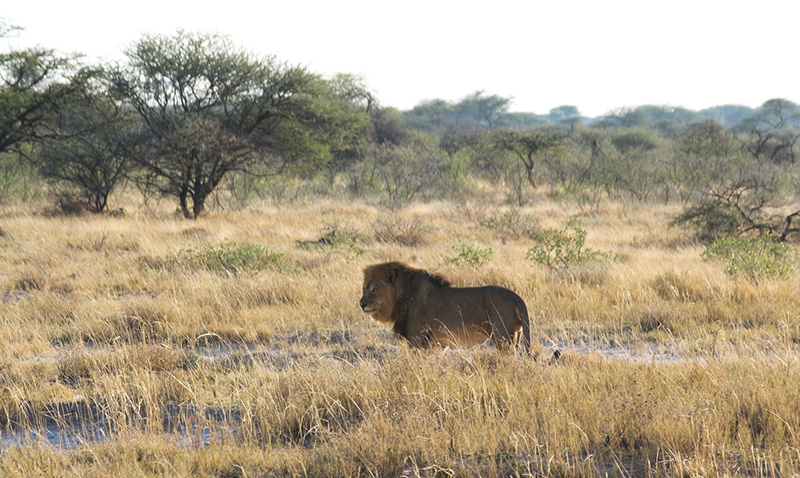 Etosha is home to 4 of the big 5 (there are no buffalo) and I saw several lions in the national park during my 2 days there.
These pictures are just from one country - there is a lot more striking and varied wildlife and scenery where that came from. From South Africa's emerald green Garden Route and the cliffs of Tsitsikamma, to the swampy, wildlife-rich Okavango Delta in Botswana, and the thundering Victoria Falls, there is so much to see. There is also great infrastructure and excellent hotels, making this region one of world's great travel destinations.
However, we know that the variety of options in Africa can be overwhelming. That's why we think Llama Travel's combination of high quality, excellent value, flexibility and expert knowledge is perfect for this part of the world. With almost twenty years experience in putting together award-winning holidays, and an excellent understanding of what our customers like, we know that our holidays in southern Africa will be every bit as good as those we offer in Latin America.
We will keep you updated about the trips we have planned with news in coming newsletters and blogs, and we will of course let you know as soon as our Africa trips have gone on sale.