Galapagos cruise
Sit back, and relax. Taking a cruise in the Galapagos is arguably the best way to experience the extensive wildlife that the islands have to offer. As much of the sailing occurs overnight, you are able to travel further and reach more remote islands that you cannot reach when taking day boat excursions during a hotel stay. Visit islands such as Genovesa and San Cristobal, where you can spot the red-footed booby, or Isabela and Fernandina, the home of the flightless cormorant. 99.9% of the Galapagos albatross nest on Española, a remote island only reached during a particular cruise holidays.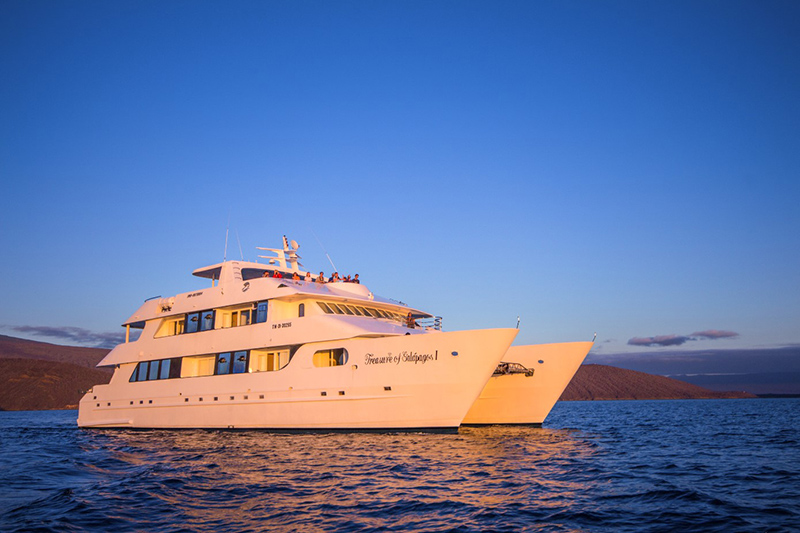 Treasure of Galapagos cruise – a 16-berth catamaran.

Here at Llama Travel we offer multiple cruise options to best fit your preferences. Fancy a smaller, 14-16 berth boat with a more intimate feel? Prefer a larger, 45-90 berth boat with more amenities? A sailing yacht; an expedition ship? Choosing a smaller cruise option allows you get to know your guide and shipmates better, however sea movement can be felt more and there may be some engine noise when sailing at night. The larger cruises tend to have better on-board facilities, however can be less intimate and can be more expensive than smaller boats. If sea sickness is an issue for you, a larger boat may be a better choice where movement of the boat can be lessened.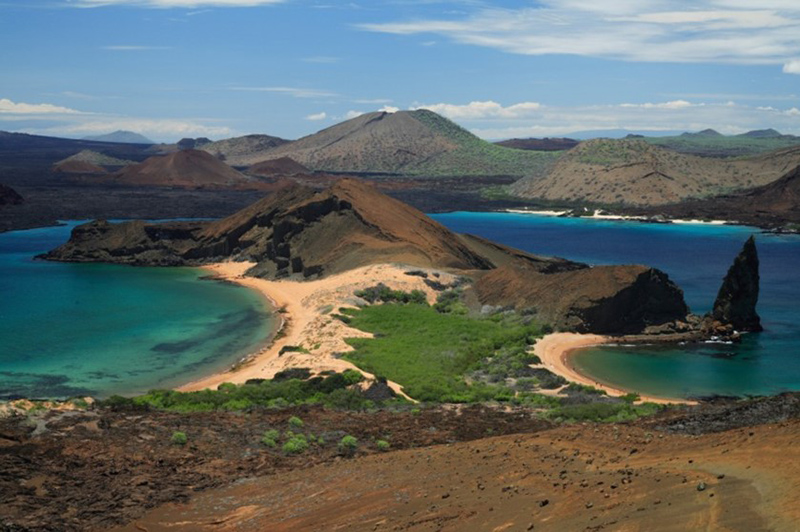 Bartolomé Island
Boats operate cruises of different lengths and itineraries, visiting different islands within the Galapagos. Taking a cruise allows you to choose an itinerary that includes as many of the islands that you are hoping to visit, and of a length of time that best suits you. The general rule is the longer the cruise, the more you should see!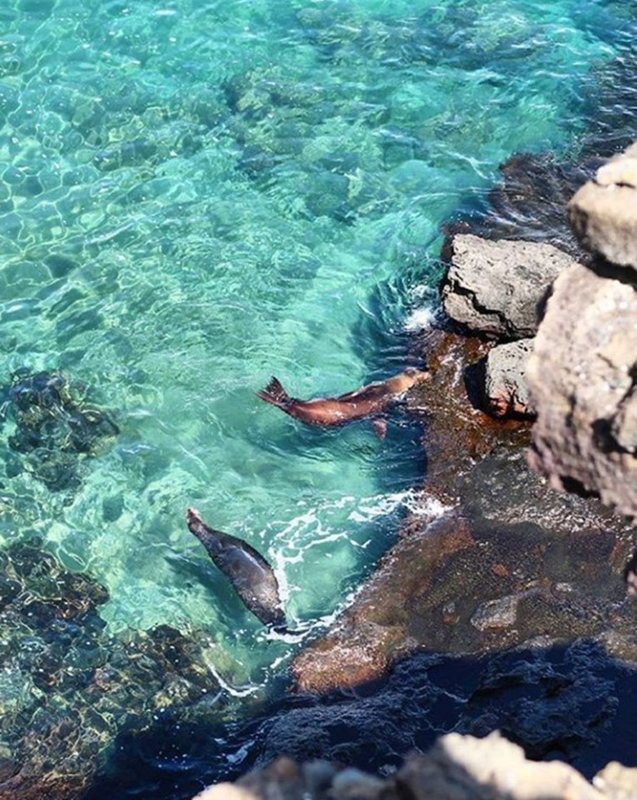 The Galapagos sea lion
Regardless of the cruise option you choose, you will generally take two excursions a day – one in the morning and one in the afternoon. While a cruise is a more expensive option than an island stay, the itinerary is set for you, the meals are all-inclusive and the crew are always there to help.
Galapagos hotel
Taking an island stay holiday is a great option for those who are not a big fan of cruises, would prefer some more flexibility or would like to immerse themselves in the culture and meet the locals in the town. Both hotel options offered through Llama Travel (Galapagos Suites and Finch Bay) are fantastic options on Santa Cruz island, allowing you to explore the surrounding islands during the day and return to comfort of a hotel in the evening. Explore the township of Puerto Ayora and enjoy dinner out in local restaurants (unless you are staying at the Finch Bay, in which case all meals are included). Staying in a hotel allows more flexibility of travel dates – while cruise dates are set, staying in a hotel is possible at any time depending on availability.
Located five minutes from the waterfront in the town of Puerto Ayora, the Galapagos Suites provides pleasant, and more affordable accommodation for experiencing the islands. Our superior option on Santa Cruz, Hotel Finch Bay, is located across the bay from Puerto Ayora next to a beach and boasts a pool, jacuzzi, restaurant and bar. Regardless of your hotel choice, you are able to take a combination of land and sea excursions during your time in the Galapagos.
Finch Bay hotel, Santa Cruz
Unlike a cruise option, only a small number of visitor sites can be reached and the islands you visit are in closer proximity to Santa Cruz (generally the islands of North Seymour, Bartolome, South Plaza, Santa Fe and Santiago). Time spent travelling to these islands is also during daytime hours. While you are not reaching the more isolated islands that the cruises can, much of the wildlife that you have the chance to spot on these closer islands are found on many islands visited during the cruises, such as the blue-footed booby, nazca booby, land and marine iguana and the Galapagos penguin, sea lion, fur seal and giant tortoise.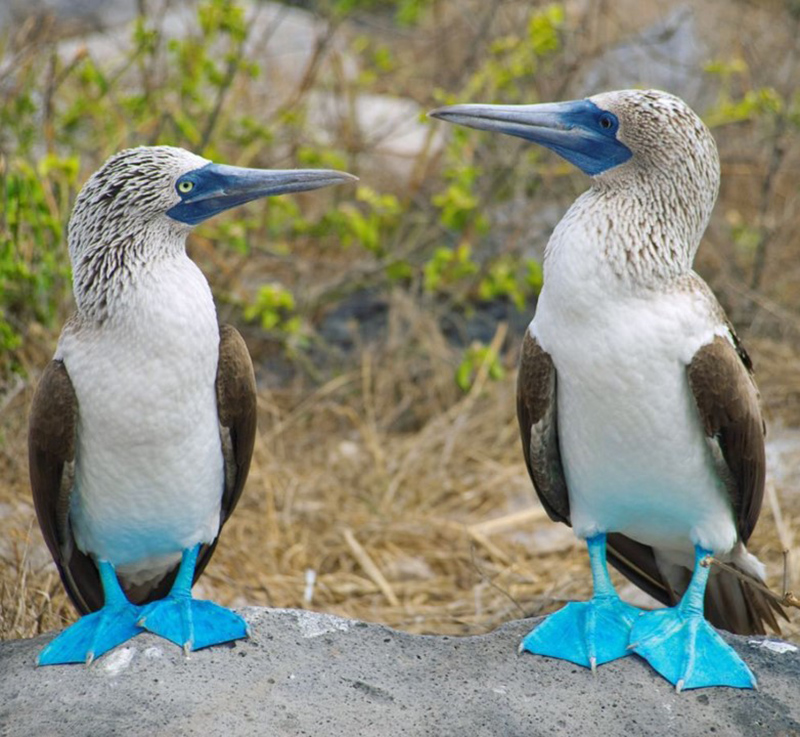 The blue-footed booby
Regardless of sailing or settling, you will take excursions with a maximum of 16 people and have the chance to see a plethora of species in the Galapagos. Snorkelling amongst the sea life is an easy and practical way to experience the underwater world. For many people this is a highlight of the trip, and snorkelling is possible with either option.
Why not both?
With so much to see, it is possible to spend some extra time in this unique part of the world and combine a cruise with an island stay holiday. If time and money permits, you may like to tack on a few days in one of the hotels on Santa Cruz following a cruise, in order to relax on the mainland and enjoy the best of both worlds. Click here to view all of our Galapagos holidays.